About Us
Whether it's developing solutions for Web, Desktop, or Mobile platforms. We can cater to your needs.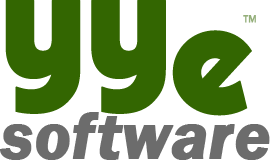 Company Info
Yye Software is an organization of professional software developers dedicated to providing our customers with cutting edge software to suit their needs. Our developers are skilled in Web, Mobile, and Desktop development. We serve clients ranging from startups to large corporations, and we are prepared to scale to your needs as they increase. Contact us today to launch your business ahead of the pack with our cutting edge software solutions.
Technologies
We keep our experts up to speed on the latest changes and trends in software design and development. We utilize current frameworks and applications for cutting-edge technology, ease of use, scalability and support.
Solutions designed by Yye are implemented to communicate with a variety of different languages and platforms. Don't get stuck with a proprietary solution that works today, but is obsolete tomorrow.
If you have an existing application that requires maintenance and enhancements, we can still help! Here are a handful of the technologies we support:
SQL Server Reporting Services