How Much Does a Mobile App Cost?
We provide custom mobile apps for business. We deliver solutions for both Android and iOS. Please
contact us
for a free consultation today.
Mobile App Components
The answer to the cost of a mobile app isn't a simple formula, unfortunately. A common reaction when a mobile application is priced is sticker shock. This isn't unique to Yye. Our partners and clients that we do staff augmentation have expressed the same reaction from their customers. Our speculation is that mobile apps are so ubiquitous and either free or cheap on the app store that folks think that they're next to nothing to create. Furthermore, many free apps have very little intelligence and serve more as a novelty than a practial application. These are largely done by hobbyists. The real mobile apps (Facebook, Twitter, Google Maps, etc) obviously have millions dumped into them annually. For small to medium sized businesses, the cost is obviously somewhere in between.
We've encouraged folks to use How Much To Make An App? to get a rough idea of what it might cost to develop your mobile app. This doesn't include much in the way of integration with any backend systems like Quickbooks, SalesForce or anything like that. Some backend integration is usually a requirement.
Below, I've priced a mobile app using this service. My selections were:
Do you need an app icon? No.
How nice should your app look? Beautiful.
Does your app need to connect with your website? Yes.
Do people rate or review things? No.
Will you charge money for your app? No.
Do people create personal profiles? I don't know.
How do people have to login? Email.
What type of app are you building? Apple iOS and Android.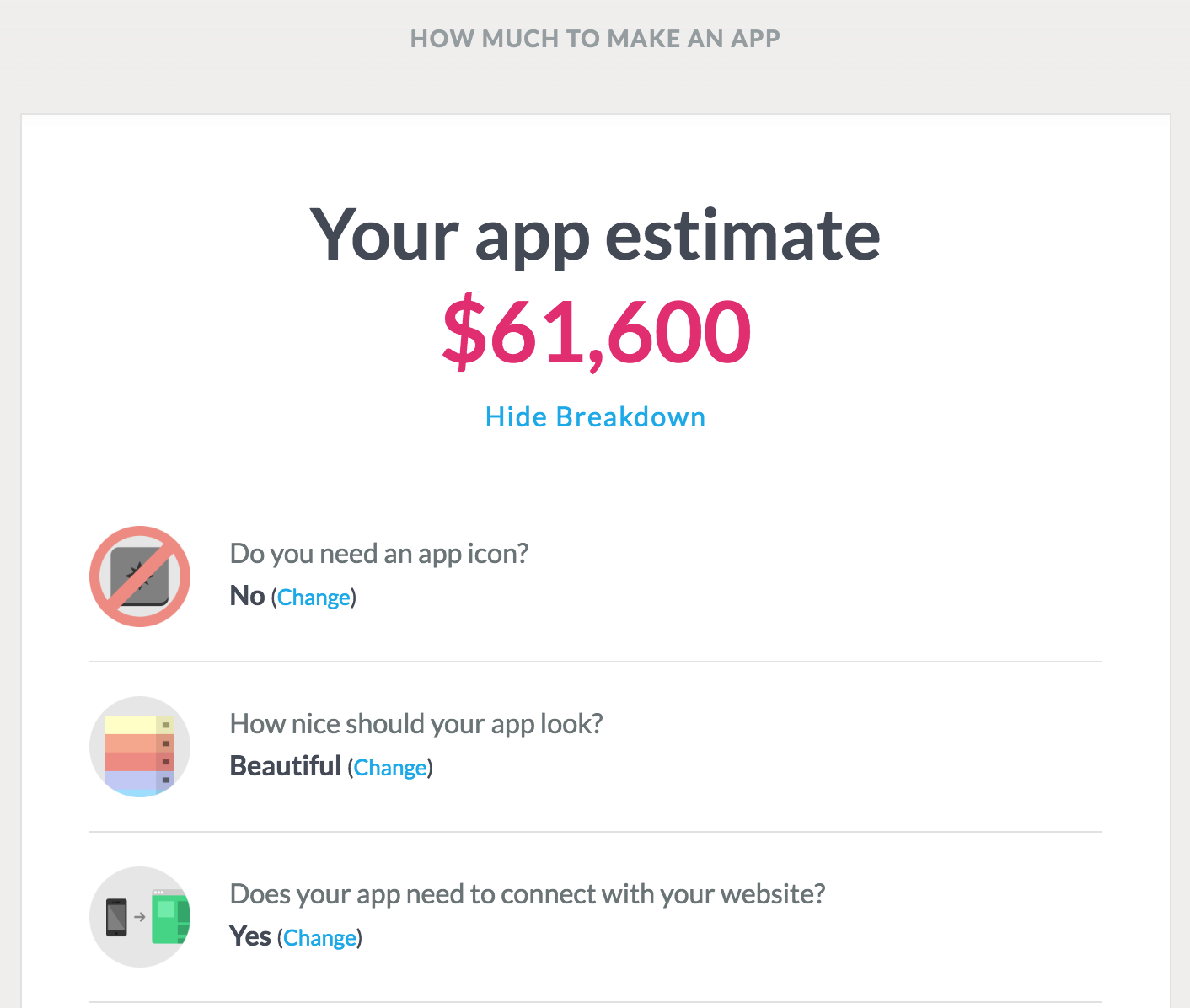 Why Is It So Much?
Truth be told, mobile app development is roughly the same cost as any other custom application development. We always sit down with our clients or potential clients to determine if there is enough value for the mobile app in their business. In some cases, we advise that businesses create mobile friendly web sites instead of native mobile applications. Check out our post about
converting web sites to mobile friendly web sites here.
Every company and every problem is different. Fortunately, in some cases the cost is well worth it, which is great because we love developing mobile applications.
Some Good News
Yye Software has been on the bleeding edge of mobile development and recent developments from Microsoft and Facebook have made the cost of supporting both Android and iOS lower. Previously, if you wanted to write a mobile app for iOS, that was a completely different piece of software than your Android version. So effectively the cost of the app doubled if you wanted to support both Android and iOS (and who wouldn't?). We use a technology called React Native which is developed and maintained by Facebook. This technology allows us to write the application once and have native app support on both devices. While it's not always perfect, it lessens the time of development and thereby cost, substantially.